---
| | | |
| --- | --- | --- |
| | Revving up | |
If you are looking for a safe, secure and easy way to transport your bike Easylifter's NEW Hydra Trail offers the perfect solution. To view a video of just how easy it is to set up and use, CLICK HERE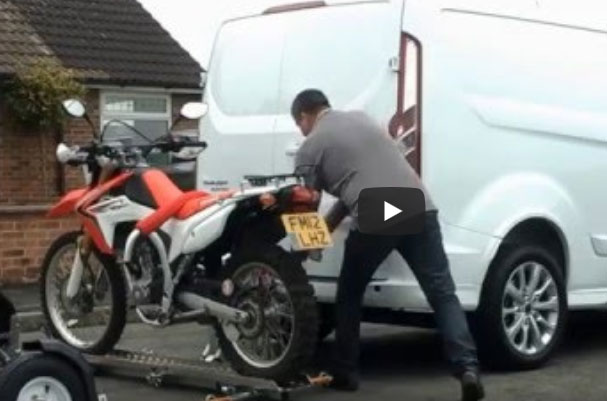 As with the complete Easylifter range, our brand new product is designed to safely & securely transport bikes up to 250 kilos in weight.
The rack is simple to use - quick, detachable, fitted or removed in 1 minute.
| | | |
| --- | --- | --- |
| | Easy Rider | |
The NEW Hydra Trail takes the hassle out of transportation.
Why struggle by transporting your bike in a van or on a trailer? With the Easylifter carrier you can transport it on the back of any sized car, van or 4 x 4 vehicle.
Whenever your bike is on the move our carrier offers complete freedom and choice of transport.
Fact file:
The Hydra-trail splits down to a very compact size (capable of being carried in the boot of a car)
The unit fits to a standard tow bar, using our special adaptor plate
Assembly and fitting takes no more than 1 minute
Securely locates the motorcycle or scooter by the wheel and adjustable seat clamp
A detachable hydraulic lifting mechanism is used to lift the rack and bike
A quick release trailer caster wheels is attached
The hydraulic lifting mechanism lowers the rack on to the caster wheel. 85% of the bike weight is now on the trailer wheel and not the vehicle
Unlike all other trailers, the hydra-trail cannot tip over or jack knife and when reversing the caster wheel rotates through 360 degrees thus allowing the tow vehicle to reverse as normal
The pantograph linkage system has over 2 feet of travel, we've tested on the roughest pot holed roads, speed bumps, even off road and the unit tracks uneven surfaces beautifully, this is helped in addition by the bikes suspension.
Carrying capacity 250 kilos
Easy lifter products are used by the Recovery industry
Comes complete with light board

£1595.00 Inc VAT